Overview
március 11, 2018
Appearances
Underworld
Underworld: Evolution
Underworld: Rise of the Lycans
Underworld: Awakening
Underworld: Blood Wars
Analysis
These are modern Lycans descended from Lucian. Being born in human form and less animalistic than the first generation, Viktor forced Lucian to propagate more of this type. The form of virus carried by Lucian was spread to humans, creating a large group of Lycans capable of taking both human and wolf form. Due to their scent, first-generation Werewolves seem to recognize them as their kind rather than human beings, even when in human form.
They are able to transform back to their human forms, and change into Werewolf forms when the moon is full. Those who have been Lycans for several centuries have learned to transform at will regardless of the moon, as they have learned to channel their rage. They resemble first-generation Werewolves, but their faces are shorter, and the least wolf-like in appearance. They also have far less fur than the earlier Werewolves. They are mostly hairless, aside from a thin mane of fur running down the center of their backs, with the exception of Lucian, who has the same amount of fur that first-generation Werewolves sport (at least in the first 3 movies). In Underworld: Endless War, Lycans have fur all over their bodies except the face and ears.
After the first purge, some of the surviving second-generation Lycans went into hiding, and without feeding they became weaker, hairless and skinnier in appearance.
Powers & Abilities
Lycans display inhuman physical strength, speed, reflexes, endurance and agility comparable to their vampire counterparts. These traits seem to apply to Lycans even when in human form, as Lucian was seen to be able to catch up to a moving car, and subsequently survive being hit by it head on. Even in their human forms, Lucian and other Lycans also demonstrate other feats of superhuman strength, speed and agility, such as catching crossbow bolts in midair, jumping extremely high and overpowering both humans and vampires in physical combat. It is very likely that they can enter a state of hibernation and survive without blood or oxygen for centuries.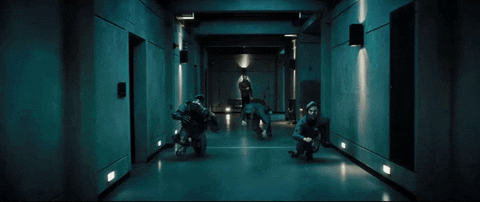 They possess enhanced senses of smell, hearing and sight that are superior even to those of wolves, not just humans, and are also able to sense Vampires in close proximity to themselves. It should be noted that when in their Werewolf forms they are stronger than when in human form, able to break through solid concrete walls, and seem to be stronger than most young Vampires, as every hand-to-hand confrontation between the two races under normal circumstances has ended with a Lycan victory, the few exception being the Vampire Elders Viktor, Selene and David. Lycans can also use their claws and strength to scale sheer surfaces, having been seen to crawl along walls at great speed in pursuit of prey. They possess the ability to land on their feet without harm when falling from great heights, as evidenced by both Lucian and Michael Corvin. Other abilities include the ability to turn humans into Lycans through their bite, or possibly through blood transfusion. Some subjects of this do not survive, as the infection or damage caused can worsen due to the turning process. Lycans also display the ability to share memories through their bite, possibly through the virus affecting their brain and nerves and making their other tissues and fluids be obtaining bio-organic signals and information, which could explain the bodies healing ability.
Their most unique ability is their ability to turn at will, though they usually turn at night. The moon could only affect and forcibly transform a Lycan that had not yet learned to control their transformations, though they could use the moons influence to change when weakened, such as when Lucian was restrained in silver for a day and escaped when the moon rose in the night sky. Their transformations are quick and painless when they are in control but when the Lycan has not learned such control, the transformation is slow and painful, taking several minutes to finish instead of a few seconds like other Lycans.
Lycans also possess superb physical resilience and remarkable regenerative abilities: both Lucian and Raze are wounded by silver bullets and Selene's shurikens respectively, yet they bear no marks or scars when they reappear later. Their recovery abilities are hampered by the presence of silver in their bodies. However, to older Lycans, the silver is rarely fatal. Lucian displays the ability to force Selene's silver bullets out of his body through muscle strength, although it is mentioned in the first film that the silver is fatal if it penetrates the internal organs. Silver is the Lycans' only weakness, as they seem to be violently allergic to it. A new variation on this is the use of silver nitrate bullets to inject the silver directly into a Lycan's bloodstream. In Underworld: Rise of the Lycans, a wild Werewolf dies after taking two shurikens with silver blades from Sonja in the chest, whereas Raze not only survives four silver shurikens thrown by Selene but continues to walk in his human form with the shurikens stuck in his chest for quite some time in Underworld. This may imply that Lycans possess greater resilience and healing abilities against silver than their Werewolf predecessors, possibly due to the greater human portion of their genome, or it could be due to more exposure and acquired resistance to silver (or it could be a continuity error). Although originally Lycans could only transform at the full moon, it is explained that the older a Lycan becomes in age, the more control they can exert over their transformation, to the point that they can change at will, possessing full mental control of their wolf form. In their wolf form, Lycans also have access to powerful jaws and razor-sharp fangs and claws, making them deadly close-quarters combatants.
By injecting the Corvinus Strain of Eve's blood into a Lycan, Jacob Lane turns his son in the first Lycan-Corvinus Strain Hybrid. Later, he started to inject himself with the Strain although he was only at the start of the treatment. Quint was [...]
Lucian was born to an unknown captive female Werewolf who was likely pregnant when she was turned and thus passed the werewolf gene onto the growing fetus. Born in human form, Lucian's Vampire owner, Viktor, initially intended to slay the infant, [...]
William Corvinus's form of lycanthropy is the most primitive, and also the most potent. He has the most lupine features, with a long muzzle and pointed ears, giving him a marked resemblance to a real wolf. He is also far larger than his descendants. [...]