Overview
Name
BARROTH (MONSTER HUNTER WORLD)
december 22, 2017
Appearances
Monster Hunter 3
Monster Hunter World
Analysis
Barroth is a Brute Wyvern introduced in Monster Hunter 3.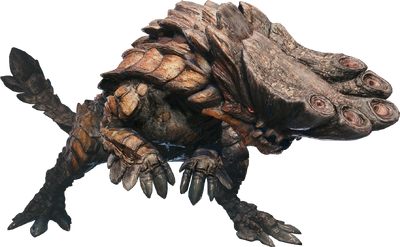 Physiology
Barroth is a large, bipedal monster characteristic of the Brute Wyvern class. It is noted for the large crown structure atop its skull, which houses its nostrils. Its body is covered in rigid plates of armored hide that help protect it from the harsh desert environment. Barroth possesses a pair of small red eyes and a mouthful of long, peg-shaped teeth.
Abilities
Barroth is capable of using its heavy head as a plow to smash through the environment, as well as cause damage to any living thing caught in its way. Because its nostrils are located on top of its head, Barroth can completely submerge itself in the cool mud during the scorching desert days.
Behavior
It will occasionally roll in dirt and mud, possibly to cool off from the hot desert sun. Although docile by default, Barroth becomes extremely territorial when disturbed. It will release an initial warning roar. If that fails, it will continuously attack until the threat is exterminated. An insectivore, it is known to attack Altaroth nests in order to feast on the occupants inside.
Habitat
Barroth is uniquely adapted to a desert lifestyle, and as such can almost exclusively be found in the Sandy Plains, although it has been known to wander into the Moga Woods occasionally.
Other Non-Subspecies Forms
Barroth EX

Barroth Damage Effectiveness
Element
Effectiveness
Status
Effectiveness
Fire
★★★(✖)
Poison
★★★
Water
✖(★★★)
Sleep
★★
Thunder
✖
Paralysis
★★★
Ice
★★
Blast
★★★
Dragon
★
Stun
★
Gallery