Overview
Name
PUKEI-PUKEI (MONSTER HUNTER: WORLD)
március 12, 2018
Appearances
Monster Hunter World
Analysis
Pukei-Pukei is a Bird Wyvern first introduced in Monster Hunter: World.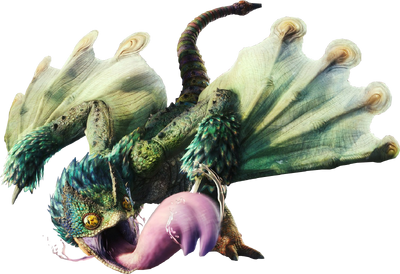 Physiology
Pukei-Pukei slightly resembles a chameleon, and its eyes are similar to frogs. It has a pair of wings and is covered in green scales that vary in color throughout its body excluding its underbelly. Its underbelly is covered in white osteoderm-like protrusions. Despite being reptilian in nature, Pukei-Pukei has vibrant feathers around its neck and wings.
Abilities
Pukei-Pukei is known to store the properties of its food within its mouth and tail before combining them with its own poison. By doing so, it can spew poison from its mouth and tail for protection. This poison varies depending on its previous meal. For example, if Pukei-Pukei eats a Scatternut then its poison will gain similar stunning abilities.
Habitats
Pukei-Pukei can be seen in the Ancient Forest and Wildspire Waste.
Behavior
Pukei-Pukei is known to bully smaller monsters, but will flee from larger ones.
Damage Effectiveness
Pukei-Pukei Damage Effectiveness
Element
Effectiveness
Status
Effectiveness
Fire
★★
Poison
★
Water
✖
Sleep
★★★
Thunder
★★★
Paralysis
★★★
Ice
★★
Blast
★★
Dragon
★
Stun
★★