Overview
Name
PINK RATHIAN (MONSTER HUNTER WORLD)
március 12, 2018
Appearances
Monster Hunter G
Monster Hunter World
Analysis
Pink Rathian are a Subspecies of Rathian, introduced in Monster Hunter G.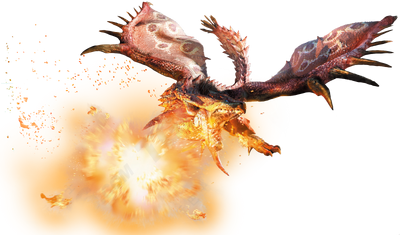 Physiology
Pink Rathian has a more heavily-armored body and has greater health and attack power than her green relative. She can often be found in various quests alongside her gender counterpart, the Azure Rathalos.
Abilities
Her attacks are generally stronger than those of normal Rathian, they are also much faster than its green relative, but that aside the two are identical in many ways.
Other Non-Subspecies Forms
Hard Core (HC) Pink Rathian
HC Pink Rathian has a more purple color to certain parts of its body and more spikes on its tail. It has new behavior and attacks including a fire ball so large and strong it creates an explosion larger than the creature itself, and has a tail swing that instead of turning its body, it waves its tail around behind it poisoning anyone it hits. In G-rank, it gains a new attack in which it lifts a large boulder from the ground, then destroys it with its talons, sending chunks of rock in multiple directions in the process. It will also shoot spikes from its tail whenever it does its tail spin attack.
Rathian Damage Effectiveness
Element
Effectiveness
Status
Effectiveness
Fire
✖
Poison
★
Water
★
Sleep
★★
Thunder
★★
Paralysis
★★
Ice
★
Blast
★
Dragon
★★★
Stun
★★★