Overview
Name
GREAT JAGRAS (MONSTER HUNTER WORLD)
január 3, 2018
Appearances
Monster Hunter World
Analysis
Great Jagras is a Fanged Wyvern first introduced in Monster Hunter: World.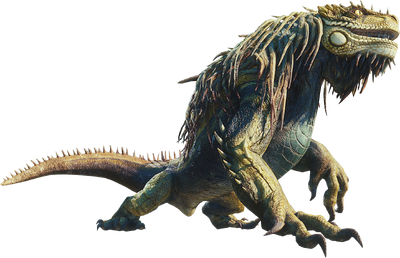 Physiology
Great Jagras greatly resembles an Iguana in appearance. It has light green scales with blue and reddish stripes covering its body, while its underbelly is blue in color. Great Jagras has multiple spikes running down its back and has a long patch of greenish fur on the back of its head.
Abilities
Great Jagras is able to swallow large prey whole in one gulp, allowing it to use its immense weight to fight off any potential threats.
Behavior
Great Jagras are quite calm monsters, but will attack if disturbed or threatened.
Habitats
Great Jagras can be seen inhabiting the Ancient Forest.
Gallery